In a recent interview with the Madison County Chamber, Pete Bitar, Founder and CEO of Xtreme Alternative Defense System (X-ADS) and 2011 Small Business of the Year Award finalist, shared insights on managing innovation and growth right here here in Madison County.
MCC: What year was your company founded?
Bitar: 2002 as a Defense Company.
MCC: What are the primary products/services of your company?
Bitar: Defense-related non-lethal and counter-IED directed energy systems.
MCC: Why did you choose this industry?
Bitar: It was an area of opportunity that presented itself, based on some ideas I had from 10 years prior. From there, it grew organically, and we continue to propose with ideas to problems that arise in our sector which we think we have a good solution to.
MCC: What is your company vision?
Bitar: Long term, it is multi-fold. We want to make the IED (Improvised Explosive Device), which is currently the biggest killer of troops and civilians in combat operations and has been since 2003, obsolete. Our Xap™ Counter-IED technology destroys roadside bombs without the need to know where they are, and does so consistently, at speed, to set them off ahead of troops so that none are harmed. The TR3 laser rifle is one that allows ships to carry a long-range (over 1 mile), non-lethal deterrent to piracy, which is a growing problem on the seas, and has the ability to impact international trade, oil flow, and ship safety worldwide. The vision for XADS is to create directed energy solutions that save lives.
MCC: What are the greatest challenges of your work?
Bitar: It has always been funding, though less so now. We have more ideas than funding ability to pursue them all, so trying to make sure that our innovative spirit stays alive and well, even as we focus on product development and production, is always a challenge.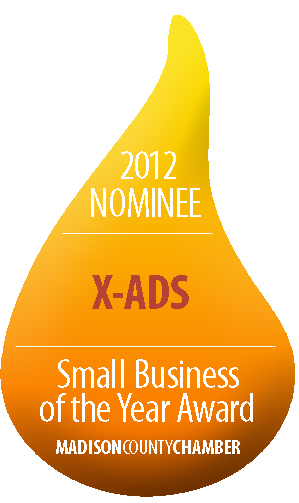 MCC: What was your greatest achievement as a company in 2011?
Bitar: We perfected Xap™ Counter-IED technology after getting an R&D contract from the Marines to integrate it, and then got a follow on production contract for several units, with potentially hundreds more to follow (worth over $100 million over 18 months). That has been our biggest accomplishment – finally going from pure R&D to production.
MCC: What are your company goals for 2012?
Bitar: To fulfill our orders, merge operations with larger defense companies so that we can handle even more work, and move to dominate our niche in the market for the foreseeable future.
MCC: What would be your ideal vision of your company in 2025?
Bitar: That it becomes a worldwide leader in new defense technologies that transforms the way people fight wars and enforce laws, and in so-doing, save lives and limbs.
MCC: Why Madison County?
Bitar: First of all, it is home. Secondly, we have a great legacy here of entrepreneurship, innovation, and electrical engineering technology development. We are in a perfect position to cast a vision that is achievable for our company here in Madison County that inspires our community to give up the last remnants of the old entitlement mentality, and that inspires fresh thinkers to work hard to do hard things that make the world a better place. We will not cede the fact that we can succeed with new ideas that are invented and made here in Anderson, and we hope that our example proves to others that are looking, that it can be done here, now.
MCC: What is one interesting fact about your company that most people don't know?
Bitar: We started in 1997 as a parachute painting company in Pete's basement… "Xtreme Ads" morphed into Xtreme A.D.S. (Alternative Defense Systems) in order to apply for our first contract, which we won.
MCC: What single word best describes the culture or attitude of your company?
Bitar: Tenacity.
MCC: Mac or PC in your company?
Bitar: PC, but our COO uses a Mac. We have not banished him yet…
MCC: What do you and/or your staff donate time to?
Bitar: Many community functions. Several of us were involved for the past two years in City Cleanup and Do Something campaigns to help the community. We all volunteer time to various charities on our own (Pete alone contributes 20-25 hours per month to church functions, the Indiana Aerospace and Defense Council, the Madison County Chamber, and the State Chamber of Commerce board, and Crescent Project in Indianapolis), and have often brought in school groups and various student organizations for tours and motivational influence over the years, both at our facility and at Flagship, in cooperation with the Flagship Enterprise Center, Anderson University, and Purdue University, throughout various venues.
X-ADS will be honored as finalist and potential winner of the 2011 Small Business of the Year Award at the Madison County Chamber 2012 Annual Awards Gala on March 1, 2012 from 6 to 9 pm at the Paramount Theatre in downtown Anderson.  Tickets can be purchased by clicking here.
.